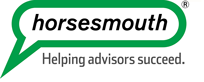 Attend Our Free Webinar
29 Presentations to Consider Delivering to Clients Now
Wednesday, October 12 at 4:00 pm ET / 1:00 pm PT
Many advisors suffer from a "value proposition gap." Clients and prospects are often unaware of all of the financial topics you can help them with. Sometimes, they seek out a new advisor because they believe you don't have the service offerings that fit their needs.
Join us for this webinar to learn:
The range of FINRA-reviewed topics available to you at Horsesmouth
Which topics draw what types of clients and their characteristics
What to consider when positioning yourself as a Financial Educator
Expert Presenter: Sean M. Bailey

Sean M. Bailey has been the Editor in Chief of Horsesmouth for 18 years. Sean starts his day by asking himself "What can Horsesmouth do to help advisors succeed in helping their clients?" Master Membership is our answer to our best clients who want to power their business with Horsesmouth.
Don't miss this important webinar on attracting prospects. Register below.
Questions? Call 1-888-336-6884 ext. 1